UCSF Global Strategic Information
At Global Strategic Information (GSI), we believe that the road to achieving the UNAIDS 90-90-90 targets—that by the year 2020 90% of all people living with HIV will know their HIV status, 90% of all people with diagnosed HIV will receive antiretroviral therapy, and 90% of all people receiving antiretroviral therapy will have viral suppression—begins by translating the right knowledge into the right decisions. For more than 10 years, GSI has aimed to further data-driven science in countries where we work.  Specifically, we help strengthen the capacity of stakeholders to collect, synthesize and use strategic information (SI) to inform, guide and monitor evidence-based responses to the HIV epidemic. By providing this support, we help countries control their HIV epidemics, with the objective of reaching the 90-90-90 targets by 2020.
Under the leadership of Professor George Rutherford, GSI faculty and staff work with PEPFAR, the Global Fund to Fight AIDS, Tuberculosis and Malaria and other key initiatives in more than 40 countries on five continents. Our largest presence is in East and Southern Africa, where we have developed long-term and robust partnerships with governments in several countries.
Leadership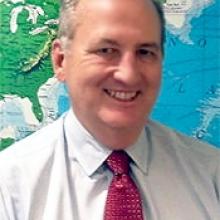 Epidemiology
Epidemiologic Surveillance
Training & Capacity Building
My research interests are the epidemiology and prevention of infectious and tropical diseases of public health importance, both internationally and domestically, with a primary focus on HIV and AIDS. My work is funded primarily by the Centers for Disease Control and Prevention through the Presidential Emergency Plan for AIDS Relief. I also have smaller projects dealing with the epidemiology of tuberculosis in California, the prevention of childhood injury, immunizations and bioterrorism. I am a member of the AIDS Research Institute's Executive Committee.